Welcome to Sydney Masters Hockey
The Sydney Masters Hockey Association (SMHA) was established over 30 years ago to manage masters hockey within the greater Sydney area.
Managed by a board of directors elected by members each year, the competition now boasts 28 teams, spread across four divisions. Sydney also enters teams in all age groups at the state championships, and enjoys a generous representation in the NSW sides selected at those championships.
Players aged 40 and above are eligible to play in all Divisions, and over 34 for the Premier, and over 35 for the Sydney Cup* Leagues. All matches played at Sydney Olympic Park Hockey Centre.
*Sydney Cup 35-39's must NOT be playing in SHA Premier League divisions (1-3), or equivalent. Max playing per team will be capped to five (5) and subject to Board approval.
SMHA Matches are played in 4 x 17 minute quarters.
You can view the draw & results by division, by clicking on the blue Division titles above. The results and ladder will update automatically upon completion of each match.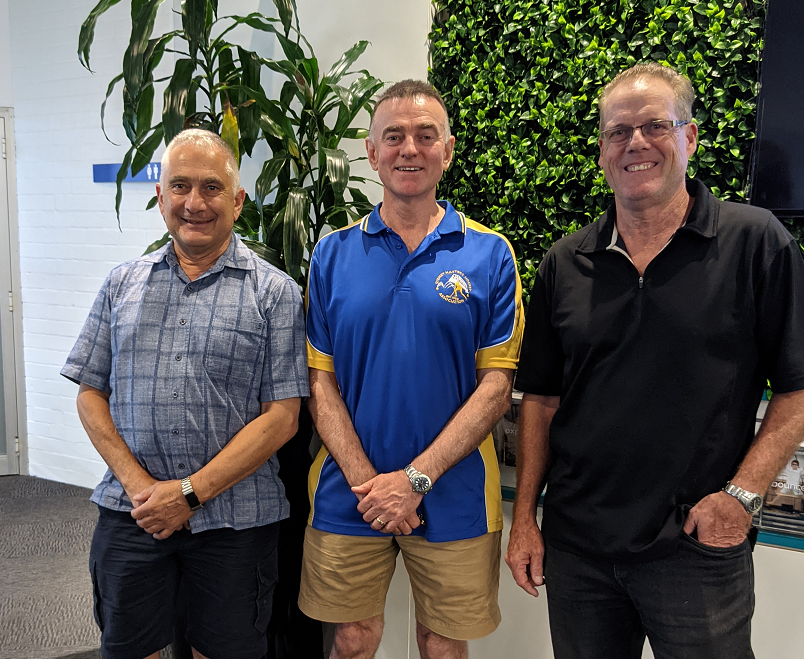 Life Members 2020
SMHA welcome Glenn Crowhurst (apology 2019), Steve Reilly and Kevin Rule to the Life Member family @ the 2020 AGM.
Mark Brookfield also inducted, was an apology on the night.
PRESIDENTS WELCOME FOR 2021
Welcome again to all our returning players, officials, sponsors and supporters, and also to those of you who are "new" and will be joining the 2021 season of Men's Masters Hockey in Sydney.
2020 was a challenging year, however we did manage to complete almost a full season.
On behalf of the Board, we wish all teams good luck and trust that everyone enjoys a successful 2021 Sydney Men's Masters Hockey season, both on and off the field.
Regards
Greg Kay
2021 Matchcards
There is a new Default Team List template which will be used to pre-populate your matchcards this year.
Please build your default list PRIOR to creating your matchcard.
You can edit/update this list anytime throughout the season.
Easter Show Parking 2021
Parking during the Easter show remains at/on P4.
If you do NOT validate your parking ticket - you WILL be charged the $ 30 flat rate for the show!
Please validate your ticket to get the free 4 hour parking.
It is also strongly recommended you allow extra time to arrive at your match to accommodate the extra road-traffic being caused by the show.
11/05/2021 | Briars 1 v UTS 1 | 20:10:00 on Olympic
11/05/2021 | Manly GNS 1 v Barbarians | 21:35:00 on Olympic
12/05/2021 | Manly GNS 2 v Macarthur 1 | 18:30:00 on P2
12/05/2021 | Sydney Uni 2 v Northern Districts 1 | 20:00:00 on P2
12/05/2021 | Briars 2 v Macquarie Uni | 21:30:00 on P2
18/05/2021 | Ryde HH 2 v UTS 2 | 18:30:00 on P2

11/05/2021 | Ryde HH 3 v Easts | 18:30:00 on P2
11/05/2021 | Sydney Uni 3 v Penrith | 20:00:00 on P2
11/05/2021 | Sutherland 1 v Macarthur 2 | 21:30:00 on P2

12/05/2021 | Briars 3 v Sutherland 2 | 18:30:00 on Olympic
12/05/2021 | Northside 4 v Ryde HH 4 | 20:00:00 on Olympic
12/05/2021 | Macarthur 3 v Sydney Uni 4 | 21:30:00 on Olympic

As matches are completed, they'll automatically be removed from the above list. Players can view their next round via their personal dashboard after logging in.
Special Important Note from SMHA
In all training and playing (includes local competitions and representative championships) organised by / associated with Sydney Masters Hockey Association (SMHA), all players and officials (ie you) acknowledge that, even with rigorous capacity and control measures in place at Hockey venues, there remains an unquantifiable risk of transmission of viral illness including COVID-19.
By training or playing at venues you have considered that risk and your own personal circumstances, including any health condition or vulnerability that you may have or that of persons whom you will be in close contact with following training or a match.
You acknowledge that, for a small number of people, COVID-19 has very serious health consequences.
By attending training or a game you (and any persons who attend with you) acknowledge and accept these obvious risks.
Date
Home Team
Away Team
Time
Venue
Score
16/03/2021
Briars 1
UTS 1
21:35:00
Olympic
6 - 4
23/03/2021
Manly GNS 1
Barbarians
20:10:00
Olympic
0 - 8
23/03/2021
Ryde HH 1
Sydney Uni 1
21:35:00
Olympic
1 - 2
Date
Home Team
Away Team
Time
Venue
Score
30/03/2021
UTS 1
Sydney Uni 1
20:00:00
P2
2 - 2
30/03/2021
Barbarians
Ryde HH 1
21:30:00
P2
3 - 3
30/03/2021
Briars 1
Manly GNS 1
20:10:00
Olympic
5 - 1
Date
Home Team
Away Team
Time
Venue
Score
06/04/2021
Ryde HH 1
Briars 1
18:30:00
P2
2 - 4
06/04/2021
Sydney Uni 1
Barbarians
20:00:00
P2
3 - 4
06/04/2021
Manly GNS 1
UTS 1
21:30:00
P2
3 - 2
Date
Home Team
Away Team
Time
Venue
Score
13/04/2021
UTS 1
Barbarians
18:30:00
P2
0 - 10
13/04/2021
Manly GNS 1
Ryde HH 1
20:10:00
Olympic
2 - 3
13/04/2021
Briars 1
Sydney Uni 1
21:35:00
Olympic
2 - 4
Date
Home Team
Away Team
Time
Venue
Score
27/04/2021
Sydney Uni 1
Manly GNS 1
18:30:00
P2
2 - 3
27/04/2021
Barbarians
Briars 1
20:00:00
P2
5 - 2
27/04/2021
Ryde HH 1
UTS 1
21:30:00
P2
2 - 3
Date
Home Team
Away Team
Time
Venue
Score
04/05/2021
Ryde HH 1
Sydney Uni 1
21:35:00
Olympic
1 - 1
11/05/2021
Briars 1
UTS 1
20:10:00
Olympic
-
11/05/2021
Manly GNS 1
Barbarians
21:35:00
Olympic
-
Date
Home Team
Away Team
Time
Venue
Score
18/05/2021
UTS 1
Sydney Uni 1
20:00:00
P2
-
18/05/2021
Barbarians
Ryde HH 1
20:10:00
Olympic
-
18/05/2021
Briars 1
Manly GNS 1
21:35:00
Olympic
-
Date
Home Team
Away Team
Time
Venue
Score
25/05/2021
Sydney Uni 1
Barbarians
18:30:00
P2
-
25/05/2021
Ryde HH 1
Briars 1
20:00:00
P2
-
25/05/2021
Manly GNS 1
UTS 1
21:30:00
P2
-
Date
Home Team
Away Team
Time
Venue
Score
08/06/2021
UTS 1
Barbarians
20:10:00
Olympic
-
15/06/2021
Briars 1
Sydney Uni 1
21:35:00
Olympic
-
15/06/2021
Manly GNS 1
Ryde HH 1
20:10:00
Olympic
-
Date
Home Team
Away Team
Time
Venue
Score
22/06/2021
Ryde HH 1
UTS 1
18:30:00
P2
-
22/06/2021
Barbarians
Briars 1
20:00:00
P2
-
22/06/2021
Sydney Uni 1
Manly GNS 1
21:30:00
P2
-
Date
Home Team
Away Team
Time
Venue
Score
06/07/2021
Ryde HH 1
Sydney Uni 1
20:00:00
P2
-
06/07/2021
Manly GNS 1
Barbarians
21:30:00
P2
-
06/07/2021
Briars 1
UTS 1
20:10:00
Olympic
-
Date
Home Team
Away Team
Time
Venue
Score
20/07/2021
UTS 1
Sydney Uni 1
18:30:00
P2
-
20/07/2021
Briars 1
Manly GNS 1
20:00:00
P2
-
20/07/2021
Barbarians
Ryde HH 1
21:30:00
P2
-
Date
Home Team
Away Team
Time
Venue
Score
27/07/2021
Sydney Uni 1
Barbarians
21:35:00
Olympic
-
03/08/2021
Manly GNS 1
UTS 1
20:10:00
Olympic
-
03/08/2021
Ryde HH 1
Briars 1
21:35:00
Olympic
-
Date
Home Team
Away Team
Time
Venue
Score
10/08/2021
Manly GNS 1
Ryde HH 1
18:30:00
P2
-
10/08/2021
Briars 1
Sydney Uni 1
20:00:00
P2
-
10/08/2021
UTS 1
Barbarians
20:10:00
Olympic
-
Date
Home Team
Away Team
Time
Venue
Score
17/08/2021
Barbarians
Briars 1
20:10:00
Olympic
-
17/08/2021
Ryde HH 1
UTS 1
21:35:00
Olympic
-
24/08/2021
Sydney Uni 1
Manly GNS 1
20:10:00
Olympic
-
Date
Home Team
Away Team
Time
Venue
Score
15/03/2021
Ryde HH 2
Sydney Uni 2
19:00:00
Olympic
4 - 2
15/03/2021
Manly GNS 2
Northern Districts 1
20:30:00
Olympic
1 - 4
Date
Home Team
Away Team
Time
Venue
Score
16/03/2021
Macquarie Uni
UTS 2
20:10:00
Olympic
3 - 3
24/03/2021
Northern Districts 1
Ryde HH 2
18:30:00
Olympic
1 - 2
24/03/2021
Sydney Uni 2
Macarthur 1
20:00:00
Olympic
9 - 0
24/03/2021
Briars 2
Manly GNS 2
21:30:00
Olympic
-
Date
Home Team
Away Team
Time
Venue
Score
30/03/2021
Manly GNS 2
UTS 2
18:30:00
P2
0 - 3
30/03/2021
Sydney Uni 2
Macquarie Uni
21:35:00
Olympic
2 - 4
31/03/2021
Northern Districts 1
Macarthur 1
20:00:00
P2
4 - 3
31/03/2021
Ryde HH 2
Briars 2
21:30:00
P2
3 - 2
Date
Home Team
Away Team
Time
Venue
Score
14/04/2021
Macarthur 1
UTS 2
20:00:00
Olympic
0 - 1
14/04/2021
Northern Districts 1
Macquarie Uni
21:30:00
Olympic
2 - 3
Date
Home Team
Away Team
Time
Venue
Score
20/04/2021
Macarthur 1
Macquarie Uni
21:35:00
Olympic
2 - 5
Date
Home Team
Away Team
Time
Venue
Score
27/04/2021
Manly GNS 2
Ryde HH 2
20:10:00
Olympic
4 - 1
27/04/2021
Briars 2
Sydney Uni 2
21:35:00
Olympic
2 - 1
Date
Home Team
Away Team
Time
Venue
Score
04/05/2021
Macarthur 1
Briars 2
18:30:00
P2
1 - 4
04/05/2021
Sydney Uni 2
Manly GNS 2
20:00:00
P2
3 - 0
04/05/2021
Northern Districts 1
UTS 2
21:30:00
P2
2 - 6
04/05/2021
Ryde HH 2
Macquarie Uni
20:10:00
Olympic
0 - 2
Date
Home Team
Away Team
Time
Venue
Score
12/05/2021
Manly GNS 2
Macarthur 1
18:30:00
P2
-
12/05/2021
Sydney Uni 2
Northern Districts 1
20:00:00
P2
-
12/05/2021
Briars 2
Macquarie Uni
21:30:00
P2
-
18/05/2021
Ryde HH 2
UTS 2
18:30:00
P2
-
Date
Home Team
Away Team
Time
Venue
Score
26/05/2021
Sydney Uni 2
UTS 2
18:30:00
Olympic
-
26/05/2021
Macquarie Uni
Manly GNS 2
20:00:00
Olympic
-
26/05/2021
Briars 2
Northern Districts 1
21:30:00
Olympic
-
01/06/2021
Ryde HH 2
Macarthur 1
21:30:00
P2
-
Date
Home Team
Away Team
Time
Venue
Score
01/06/2021
Briars 2
UTS 2
21:35:00
Olympic
-
Date
Home Team
Away Team
Time
Venue
Score
15/06/2021
Ryde HH 2
Briars 2
18:30:00
P2
-
15/06/2021
Northern Districts 1
Macarthur 1
20:00:00
P2
-
15/06/2021
Sydney Uni 2
Macquarie Uni
21:30:00
P2
-
22/06/2021
Manly GNS 2
UTS 2
20:10:00
Olympic
-
Date
Home Team
Away Team
Time
Venue
Score
29/06/2021
Manly GNS 2
Ryde HH 2
20:00:00
P2
-
29/06/2021
Northern Districts 1
Macquarie Uni
21:30:00
P2
-
29/06/2021
Briars 2
Sydney Uni 2
21:35:00
Olympic
-
29/06/2021
Macarthur 1
UTS 2
20:10:00
Olympic
-
Date
Home Team
Away Team
Time
Venue
Score
06/07/2021
Northern Districts 1
UTS 2
18:30:00
P2
-
06/07/2021
Macarthur 1
Briars 2
21:35:00
Olympic
-
07/07/2021
Ryde HH 2
Macquarie Uni
18:30:00
Olympic
-
13/07/2021
Sydney Uni 2
Manly GNS 2
21:35:00
Olympic
-
Date
Home Team
Away Team
Time
Venue
Score
21/07/2021
Manly GNS 2
Northern Districts 1
20:00:00
P2
-
21/07/2021
Briars 2
UTS 2
21:30:00
P2
-
21/07/2021
Macarthur 1
Macquarie Uni
20:00:00
Olympic
-
21/07/2021
Ryde HH 2
Sydney Uni 2
21:30:00
Olympic
-
Date
Home Team
Away Team
Time
Venue
Score
03/08/2021
Northern Districts 1
Ryde HH 2
18:30:00
P2
-
03/08/2021
Briars 2
Manly GNS 2
20:00:00
P2
-
03/08/2021
Sydney Uni 2
Macarthur 1
21:30:00
P2
-
04/08/2021
Macquarie Uni
UTS 2
18:30:00
Olympic
-
Date
Home Team
Away Team
Time
Venue
Score
10/08/2021
Ryde HH 2
UTS 2
21:35:00
Olympic
-
17/08/2021
Manly GNS 2
Macarthur 1
18:30:00
P2
-
17/08/2021
Sydney Uni 2
Northern Districts 1
21:30:00
P2
-
18/08/2021
Briars 2
Macquarie Uni
20:00:00
Olympic
-
Date
Home Team
Away Team
Time
Venue
Score
24/08/2021
Ryde HH 2
Macarthur 1
18:30:00
P2
-
24/08/2021
Briars 2
Northern Districts 1
20:00:00
P2
-
24/08/2021
Macquarie Uni
Manly GNS 2
21:30:00
P2
-
24/08/2021
Sydney Uni 2
UTS 2
21:35:00
Olympic
-
Date
Home Team
Away Team
Time
Venue
Score
17/03/2021
Macarthur 2
Sydney Uni 3
18:30:00
Olympic
0 - 2
17/03/2021
Easts
Sutherland 1
20:00:00
Olympic
0 - 9
17/03/2021
Manly GNS 3
Ryde HH 3
21:30:00
Olympic
1 - 6
Date
Home Team
Away Team
Time
Venue
Score
24/03/2021
Macarthur 2
Easts
18:30:00
P2
3 - 1
24/03/2021
Penrith
Manly GNS 3
20:00:00
P2
1 - 2
24/03/2021
Ryde HH 3
Sydney Uni 3
21:30:00
P2
3 - 0
Date
Home Team
Away Team
Time
Venue
Score
06/04/2021
Sutherland 1
Manly GNS 3
20:10:00
Olympic
8 - 2
06/04/2021
Penrith
Macarthur 2
21:35:00
Olympic
2 - 2
31/03/2021
Sydney Uni 3
Easts
21:30:00
Olympic
3 - 0
Date
Home Team
Away Team
Time
Venue
Score
14/04/2021
Ryde HH 3
Penrith
20:00:00
P2
1 - 1
14/04/2021
Sutherland 1
Sydney Uni 3
18:30:00
P2
0 - 3
14/04/2021
Manly GNS 3
Macarthur 2
21:30:00
P2
4 - 2
Date
Home Team
Away Team
Time
Venue
Score
28/04/2021
Ryde HH 3
Sutherland 1
18:30:00
Olympic
2 - 5
28/04/2021
Easts
Penrith
20:00:00
Olympic
3 - 6
28/04/2021
Sydney Uni 3
Manly GNS 3
21:30:00
Olympic
1 - 0
Date
Home Team
Away Team
Time
Venue
Score
11/05/2021
Ryde HH 3
Easts
18:30:00
P2
-
11/05/2021
Sydney Uni 3
Penrith
20:00:00
P2
-
11/05/2021
Sutherland 1
Macarthur 2
21:30:00
P2
-
Date
Home Team
Away Team
Time
Venue
Score
25/05/2021
Macarthur 2
Ryde HH 3
20:10:00
Olympic
-
18/05/2021
Easts
Manly GNS 3
21:30:00
P2
-
25/05/2021
Penrith
Sutherland 1
21:35:00
Olympic
-
Date
Home Team
Away Team
Time
Venue
Score
01/06/2021
Manly GNS 3
Macarthur 2
20:00:00
P2
-
08/06/2021
Ryde HH 3
Penrith
18:30:00
P2
-
08/06/2021
Sutherland 1
Sydney Uni 3
21:35:00
Olympic
-
Date
Home Team
Away Team
Time
Venue
Score
23/06/2021
Ryde HH 3
Sydney Uni 3
18:30:00
P2
-
23/06/2021
Macarthur 2
Easts
20:00:00
P2
-
23/06/2021
Penrith
Manly GNS 3
21:30:00
P2
-
Date
Home Team
Away Team
Time
Venue
Score
07/07/2021
Easts
Penrith
20:00:00
Olympic
-
07/07/2021
Ryde HH 3
Sutherland 1
21:30:00
Olympic
-
29/06/2021
Sydney Uni 3
Manly GNS 3
18:30:00
P2
-
Date
Home Team
Away Team
Time
Venue
Score
13/07/2021
Easts
Sutherland 1
18:30:00
P2
-
13/07/2021
Macarthur 2
Sydney Uni 3
20:00:00
P2
-
13/07/2021
Manly GNS 3
Ryde HH 3
21:30:00
P2
-
Date
Home Team
Away Team
Time
Venue
Score
21/07/2021
Penrith
Sutherland 1
18:30:00
P2
-
21/07/2021
Macarthur 2
Ryde HH 3
18:30:00
Olympic
-
27/07/2021
Easts
Manly GNS 3
20:10:00
Olympic
-
Date
Home Team
Away Team
Time
Venue
Score
04/08/2021
Sutherland 1
Manly GNS 3
20:00:00
Olympic
-
04/08/2021
Sydney Uni 3
Easts
21:30:00
Olympic
-
10/08/2021
Penrith
Macarthur 2
21:30:00
P2
-
Date
Home Team
Away Team
Time
Venue
Score
18/08/2021
Ryde HH 3
Easts
18:30:00
P2
-
18/08/2021
Sutherland 1
Macarthur 2
20:00:00
P2
-
18/08/2021
Sydney Uni 3
Penrith
21:30:00
P2
-
Date
Home Team
Away Team
Time
Venue
Score
23/03/2021
Sydney Uni 4
Ryde HH 4
18:30:00
P2
0 - 1
23/03/2021
Northern Districts 2
Northside 4
20:00:00
P2
3 - 1
23/03/2021
Macarthur 3
Briars 3
21:30:00
P2
0 - 0
Date
Home Team
Away Team
Time
Venue
Score
31/03/2021
Sutherland 2
Macarthur 3
18:30:00
P2
3 - 2
31/03/2021
Sydney Uni 4
Northern Districts 2
18:30:00
Olympic
2 - 1
31/03/2021
Ryde HH 4
Briars 3
20:00:00
Olympic
0 - 3
Date
Home Team
Away Team
Time
Venue
Score
13/04/2021
Sutherland 2
Northside 4
20:00:00
P2
3 - 3
13/04/2021
Sydney Uni 4
Briars 3
21:30:00
P2
1 - 2
14/04/2021
Northern Districts 2
Macarthur 3
18:30:00
Olympic
3 - 1
Date
Home Team
Away Team
Time
Venue
Score
20/04/2021
Ryde HH 4
Northern Districts 2
18:30:00
P2
0 - 0
20/04/2021
Sutherland 2
Sydney Uni 4
20:00:00
P2
1 - 2
20/04/2021
Northside 4
Macarthur 3
21:30:00
P2
3 - 0
Date
Home Team
Away Team
Time
Venue
Score
28/04/2021
Briars 3
Northern Districts 2
18:30:00
P2
2 - 3
28/04/2021
Northside 4
Sydney Uni 4
20:00:00
P2
2 - 3
28/04/2021
Ryde HH 4
Sutherland 2
21:30:00
P2
0 - 3
Date
Home Team
Away Team
Time
Venue
Score
12/05/2021
Briars 3
Sutherland 2
18:30:00
Olympic
-
12/05/2021
Northside 4
Ryde HH 4
20:00:00
Olympic
-
12/05/2021
Macarthur 3
Sydney Uni 4
21:30:00
Olympic
-
Date
Home Team
Away Team
Time
Venue
Score
26/05/2021
Briars 3
Northside 4
18:30:00
P2
-
26/05/2021
Macarthur 3
Ryde HH 4
20:00:00
P2
-
26/05/2021
Northern Districts 2
Sutherland 2
21:30:00
P2
-
Date
Home Team
Away Team
Time
Venue
Score
01/06/2021
Northside 4
Macarthur 3
18:30:00
P2
-
08/06/2021
Ryde HH 4
Northern Districts 2
20:00:00
P2
-
08/06/2021
Sutherland 2
Sydney Uni 4
21:30:00
P2
-
Date
Home Team
Away Team
Time
Venue
Score
23/06/2021
Macarthur 3
Sydney Uni 4
18:30:00
Olympic
-
23/06/2021
Briars 3
Sutherland 2
20:00:00
Olympic
-
23/06/2021
Northside 4
Ryde HH 4
21:30:00
Olympic
-
Date
Home Team
Away Team
Time
Venue
Score
07/07/2021
Northside 4
Sydney Uni 4
18:30:00
P2
-
07/07/2021
Ryde HH 4
Sutherland 2
20:00:00
P2
-
07/07/2021
Briars 3
Northern Districts 2
21:30:00
P2
-
Date
Home Team
Away Team
Time
Venue
Score
13/07/2021
Northern Districts 2
Northside 4
20:10:00
Olympic
-
20/07/2021
Macarthur 3
Briars 3
20:10:00
Olympic
-
20/07/2021
Sydney Uni 4
Ryde HH 4
21:35:00
Olympic
-
Date
Home Team
Away Team
Time
Venue
Score
27/07/2021
Briars 3
Northside 4
18:30:00
P2
-
27/07/2021
Macarthur 3
Ryde HH 4
20:00:00
P2
-
27/07/2021
Northern Districts 2
Sutherland 2
21:30:00
P2
-
Date
Home Team
Away Team
Time
Venue
Score
04/08/2021
Northern Districts 2
Macarthur 3
18:30:00
P2
-
04/08/2021
Sutherland 2
Northside 4
20:00:00
P2
-
04/08/2021
Sydney Uni 4
Briars 3
21:30:00
P2
-
Date
Home Team
Away Team
Time
Venue
Score
17/08/2021
Sydney Uni 4
Northern Districts 2
20:00:00
P2
-
18/08/2021
Ryde HH 4
Briars 3
18:30:00
Olympic
-
18/08/2021
Sutherland 2
Macarthur 3
21:30:00
Olympic
-
Premier Division
| Team | Games | Win | Draw | Loss | G+ | G- | +/- | Points |
| --- | --- | --- | --- | --- | --- | --- | --- | --- |
| | 5 | 4 | 1 | 0 | 30 | 8 | 22 | 13 |
| | 5 | 3 | 0 | 2 | 19 | 16 | 3 | 9 |
| | 6 | 2 | 2 | 2 | 14 | 15 | -1 | 8 |
| | 5 | 2 | 0 | 3 | 9 | 18 | -9 | 6 |
| | 6 | 1 | 2 | 3 | 12 | 15 | -3 | 5 |
| | 5 | 1 | 1 | 3 | 11 | 23 | -12 | 4 |
Sydney Cup
| Team | Games | Win | Draw | Loss | G+ | G- | +/- | Points |
| --- | --- | --- | --- | --- | --- | --- | --- | --- |
| | 5 | 4 | 1 | 0 | 17 | 9 | 8 | 13 |
| | 4 | 3 | 1 | 0 | 13 | 5 | 8 | 10 |
| | 5 | 3 | 0 | 2 | 10 | 11 | -1 | 9 |
| | 5 | 2 | 0 | 3 | 13 | 15 | -2 | 6 |
| | 3 | 2 | 0 | 1 | 8 | 5 | 3 | 6 |
| | 5 | 2 | 0 | 3 | 17 | 10 | 7 | 6 |
| | 4 | 1 | 0 | 3 | 5 | 11 | -6 | 3 |
| | 5 | 0 | 0 | 5 | 6 | 23 | -17 | 0 |
Masters Division
| Team | Games | Win | Draw | Loss | G+ | G- | +/- | Points |
| --- | --- | --- | --- | --- | --- | --- | --- | --- |
| | 5 | 4 | 0 | 1 | 9 | 3 | 6 | 12 |
| | 4 | 3 | 0 | 1 | 22 | 7 | 15 | 9 |
| | 4 | 2 | 1 | 1 | 12 | 7 | 5 | 7 |
| | 5 | 2 | 0 | 3 | 9 | 18 | -9 | 6 |
| | 4 | 1 | 2 | 1 | 10 | 8 | 2 | 5 |
| | 4 | 1 | 1 | 2 | 7 | 10 | -3 | 4 |
| | 5 | 0 | 0 | 5 | 5 | 24 | -19 | 0 |
Legends Division
| Team | Games | Win | Draw | Loss | G+ | G- | +/- | Points |
| --- | --- | --- | --- | --- | --- | --- | --- | --- |
| | 5 | 3 | 1 | 1 | 10 | 6 | 4 | 10 |
| | 5 | 3 | 0 | 2 | 8 | 7 | 1 | 9 |
| | 4 | 2 | 1 | 1 | 10 | 7 | 3 | 7 |
| | 4 | 2 | 1 | 1 | 7 | 4 | 3 | 7 |
| | 4 | 1 | 1 | 2 | 9 | 9 | 0 | 4 |
| | 4 | 1 | 1 | 2 | 1 | 6 | -5 | 4 |
| | 4 | 0 | 1 | 3 | 3 | 9 | -6 | 1 |