Welcome to Sydney Masters Hockey
The Sydney Masters Hockey Association (SMHA) was established over 30 years ago to manage masters hockey within the greater Sydney area.

Managed by a board of directors elected by members each year, the competition now boasts 28 teams, spread across four divisions. Sydney also enters teams in all age groups at the state championships, and enjoys a generous representation in the NSW sides selected at those championships.

Players aged 40 and above are eligible to play in all Divisions, and over 35 for the Premier & Sydney Cup* Leagues. All matches played at Sydney Olympic Park Hockey Centre.

*Sydney Cup 35-39's must NOT be playing in SHA Premier League divisions (1-3), or equivalent. Max playing per team will be capped to five (5). Can have more registered.

SMHA Matches in 2020 will be played in 4 x 17 minute quarters.

You can view the draw & results by division, by clicking on the blue Division titles above. The results and ladder will update automatically upon completion of each match.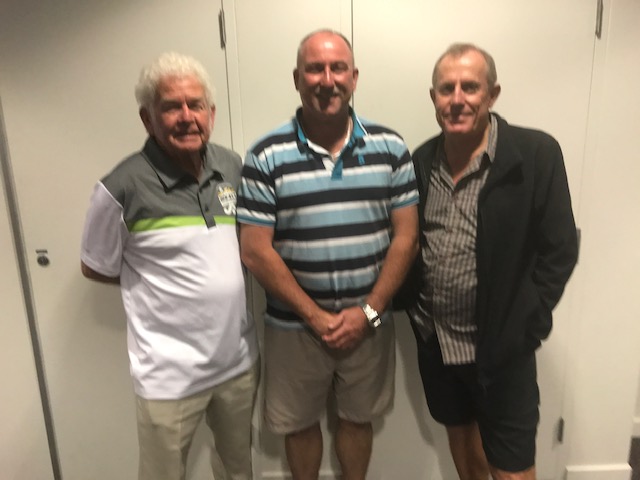 Life Members 2019
SMHA president David Alexander welcoming Dave, Garth and Crowy to the Life Member family @ the 2019 AGM.
Glen Crowhurst was an apology on the evening. Thanks to GK for the photo.
NEW players
Looking for a team?
If you are new to the Masters competition in Sydney, welcome! We have over 14 Hockey clubs participating in the SMHA Competition. Please click below to find your local club OR contact SMHA for assistance in finding a suitable team.
Find a team
Website update
I am working on updating the draw, and results now that the competition has resumed. Please be patient as I complete this update - I will take up to 2 rounds to catchup. In the meantime, we request you use the 2019 paper matchcards. Simon will email coords when we are ready to switch back to the digital cards. Thanks for your patience and understanding.
2020 Season
Main Season
The Main season for 2020 has RESUMED, as of July 14, 2020. click here for more information and competition status.
The website draw, results and use of digital matchcards will resume shortly.
04/08/2020 | Briars 1 v UTS 1 | 21:30:00 on Cintra

18/08/2020 | Maq Uni 2 v ND 2 | 18:30:00 on P2
18/08/2020 | Macarthur 2 v Ryde Syd Cup | 21:35:00 on Olympic
19/08/2020 | Briars 2 v Syd Uni 2 | 20:00:00 on P2

05/08/2020 | Sutherland Masters v Syd Uni 3 | 20:00:00 on Olympic
05/08/2020 | Macarthur 3 v Easts | 18:30:00 on Olympic
04/08/2020 | Manly GNS 3 v Ryde Masters | 21:35:00 on Olympic

04/08/2020 | Briars 4 v Macarthur 4 | 20:00:00 on P2
04/08/2020 | Sutherland Legends v Syd Uni 4 | 18:30:00 on P2
04/08/2020 | ND 4 v Northside 4 | 21:35:00 on Olympic

As matches are completed, they'll automatically be removed from the above list. Players can view their next round via their personal dashboard after logging in.
Date
Home Team
Away Team
Time
Venue
Score
25/02/2020
Briars 1
Manly GNS 1
20:10:00
Olympic
6 - 5
25/02/2020
Syd Uni 1
UTS 1
21:35:00
Olympic
2 - 1
Date
Home Team
Away Team
Time
Venue
Score
03/03/2020
Briars 1
Syd Uni 1
20:10:00
Olympic
2 - 0
03/03/2020
Manly GNS 1
UTS 1
21:35:00
Olympic
2 - 2
Date
Home Team
Away Team
Time
Venue
Score
10/03/2020
Briars 1
UTS 1
20:10:00
Olympic
4 - 1
10/03/2020
Manly GNS 1
Syd Uni 1
21:30:00
P2
1 - 1
Date
Home Team
Away Team
Time
Venue
Score
14/07/2020
Syd Uni 1
UTS 1
21:35:00
Olympic
3 - 2
14/07/2020
Briars 1
Manly GNS 1
20:10:00
Olympic
3 - 0
Date
Home Team
Away Team
Time
Venue
Score
21/07/2020
Manly GNS 1
UTS 1
21:35:00
Olympic
3 - 1
21/07/2020
Briars 1
Syd Uni 1
20:10:00
Olympic
4 - 0
Date
Home Team
Away Team
Time
Venue
Score
04/08/2020
Manly GNS 1
Syd Uni 1
21:00:00
Lidcombe
0 - 6
04/08/2020
Briars 1
UTS 1
21:30:00
Cintra
-
Date
Home Team
Away Team
Time
Venue
Score
18/08/2020
Briars 1
Manly GNS 1
21:30:00
Cintra
-
18/08/2020
Syd Uni 1
UTS 1
21:00:00
Lidcombe
-
Date
Home Team
Away Team
Time
Venue
Score
25/08/2020
Briars 1
Syd Uni 1
20:10:00
Olympic
-
25/08/2020
Manly GNS 1
UTS 1
21:35:00
Olympic
-
Date
Home Team
Away Team
Time
Venue
Score
25/02/2020
Briars 2
Ryde Syd Cup
18:30:00
P2
2 - 3
25/02/2020
Macarthur 2
Manly GNS 2
21:30:00
P2
1 - 3
26/02/2020
ND 2
Maq Uni 2
21:30:00
Olympic
2 - 3
Date
Home Team
Away Team
Time
Venue
Score
03/03/2020
Briars 2
Syd Uni 2
21:30:00
P2
3 - 1
04/03/2020
ND 2
Manly GNS 2
18:30:00
Olympic
0 - 4
04/03/2020
Ryde Syd Cup
Maq Uni 2
21:30:00
Olympic
5 - 0
Date
Home Team
Away Team
Time
Venue
Score
11/03/2020
Syd Uni 2
Ryde Syd Cup
20:10:00
Olympic
2 - 2
11/03/2020
ND 2
Briars 2
21:30:00
Olympic
0 - 6
11/03/2020
Maq Uni 2
Macarthur 2
20:00:00
P2
1 - 2
Date
Home Team
Away Team
Time
Venue
Score
14/07/2020
Briars 2
Manly GNS 2
21:30:00
Cintra
4 - 2
14/07/2020
ND 2
Ryde Syd Cup
18:30:00
P2
1 - 9
Date
Home Team
Away Team
Time
Venue
Score
21/07/2020
Maq Uni 2
Syd Uni 2
21:00:00
Lidcombe
1 - 0
21/07/2020
Briars 2
Macarthur 2
20:00:00
P2
2 - 1
22/07/2020
Manly GNS 2
Ryde Syd Cup
20:00:00
Olympic
2 - 4
Date
Home Team
Away Team
Time
Venue
Score
28/07/2020
Ryde Syd Cup
Macarthur 2
20:10:00
Olympic
9 - 3
28/07/2020
Syd Uni 2
ND 2
21:00:00
Lidcombe
3 - 0
28/07/2020
Manly GNS 2
Maq Uni 2
21:35:00
Olympic
3 - 2
Date
Home Team
Away Team
Time
Venue
Score
05/08/2020
Macarthur 2
ND 2
18:30:00
P2
2 - 1
05/08/2020
Manly GNS 2
Syd Uni 2
20:00:00
P2
0 - 5
05/08/2020
Maq Uni 2
Briars 2
21:30:00
P2
2 - 2
Date
Home Team
Away Team
Time
Venue
Score
18/08/2020
Maq Uni 2
ND 2
18:30:00
P2
-
18/08/2020
Macarthur 2
Ryde Syd Cup
21:35:00
Olympic
-
19/08/2020
Briars 2
Syd Uni 2
20:00:00
P2
-
Date
Home Team
Away Team
Time
Venue
Score
25/08/2020
Ryde Syd Cup
Briars 2
21:20:00
Cintra
-
25/08/2020
ND 2
Macarthur 2
18:30:00
P2
-
25/08/2020
Manly GNS 2
Maq Uni 2
20:00:00
P2
-
Date
Home Team
Away Team
Time
Venue
Score
26/02/2020
Macarthur 3
Sutherland Masters
20:00:00
P2
0 - 3
18/03/2020
Ryde Masters
Sydney Uni 3
20:00:00
P2
2 - 2
Date
Home Team
Away Team
Time
Venue
Score
03/03/2020
Syd Uni 3
Penrith 3
18:30:00
P2
1 - 3
03/03/2020
Manly GNS 3
Easts
20:00:00
P2
1 - 3
04/03/2020
Sutherland Masters
Ryde Masters 2
20:00:00
P2
2 - 2
Date
Home Team
Away Team
Time
Venue
Score
10/03/2020
Penrith 3
Easts
18:30:00
P2
1 - 1
10/03/2020
Macarthur 3
Syd Uni 3
20:00:00
P2
0 - 4
Date
Home Team
Away Team
Time
Venue
Score
15/07/2020
Manly GNS 3
Sutherland Masters
20:00:00
Olympic
2 - 2
14/07/2020
Penrith 3
Ryde Masters
21:30:00
P2
0 - 4
15/07/2020
Syd Uni 3
Easts
18:30:00
Olympic
1 - 2
Date
Home Team
Away Team
Time
Venue
Score
22/07/2020
Sutherland Masters
Penrith 3
18:30:00
P2
3 - 1
22/07/2020
Syd Uni 3
Ryde Masters
21:30:00
P2
1 - 5
22/07/2020
Macarthur 3
Manly GNS 3
20:00:00
P2
0 - 0
Date
Home Team
Away Team
Time
Venue
Score
28/07/2020
Syd Uni 3
Manly GNS 3
20:00:00
P2
2 - 2
28/07/2020
Penrith 3
Macarthur 3
21:30:00
Olympic
4 - 0
28/07/2020
Ryde Masters
Easts
18:30:00
P2
6 - 0
Date
Home Team
Away Team
Time
Venue
Score
05/08/2020
Sutherland Masters
Syd Uni 3
20:00:00
Olympic
-
05/08/2020
Macarthur 3
Easts
18:30:00
Olympic
-
04/08/2020
Manly GNS 3
Ryde Masters
21:35:00
Olympic
-
Date
Home Team
Away Team
Time
Venue
Score
11/08/2020
Easts
Sutherland Masters
18:30:00
P2
-
11/08/2020
Ryde Masters
Macarthur 3
20:00:00
P2
-
11/08/2020
Penrith 3
Manly GNS 3
21:30:00
P2
-
Date
Home Team
Away Team
Time
Venue
Score
18/08/2020
Macarthur 3
Sutherland Masters
20:10:00
Olympic
-
19/08/2020
Syd Uni 3
Penrith 3
18:30:00
P2
-
18/08/2020
Manly GNS 3
Easts
21:30:00
P2
-
Date
Home Team
Away Team
Time
Venue
Score
26/02/2020
Briars 4
Ryde Legends OA
18:30:00
Olympic
0 - 2
26/02/2020
Northside 4
Sutherland Legends
18:30:00
P2
0 - 3
26/02/2020
ND 4
Ryde Legends O55
20:00:00
Olympic
2 - 0
26/02/2020
Macarthur 4
Syd Uni 4
21:30:00
P2
1 - 0
Date
Home Team
Away Team
Time
Venue
Score
04/03/2020
ND 4
Briars 4
20:00:00
Olympic
1 - 1
04/03/2020
Sutherland Legends
Macarthur 4
21:30:00
P2
0 - 0
Date
Home Team
Away Team
Time
Venue
Score
11/03/2020
Syd Uni 4
Ryde Legends O55
18:30:00
Olympic
1 - 4
11/03/2020
Ryde Legends OA
Northside 4
18:30:00
P2
7 - 0
Date
Home Team
Away Team
Time
Venue
Score
15/07/2020
Briars 4
Syd Uni 4
20:00:00
P2
1 - 0
15/07/2020
Ryde Legends OA
Sutherland Legends
21:30:00
Olympic
7 - 1
15/07/2020
ND 4
Macarthur 4
21:30:00
P2
2 - 1
15/07/2020
Ryde Legends O55
Northside 4
18:30:00
P2
2 - 1
Date
Home Team
Away Team
Time
Venue
Score
21/07/2020
Syd Uni 4
Ryde Legends OA
21:30:00
P2
1 - 3
21/07/2020
Northside 4
Macarthur 4
18:30:00
P2
0 - 3
22/07/2020
Sutherland Legends
ND 4
18:30:00
Olympic
0 - 0
21/07/2020
Ryde Legends O55
Briars 4
21:30:00
Cintra
2 - 5
Date
Home Team
Away Team
Time
Venue
Score
04/08/2020
Briars 4
Macarthur 4
20:00:00
P2
-
04/08/2020
Ryde Legends OA
Ryde Legends O55
21:30:00
P2
2 - 0
04/08/2020
Sutherland Legends
Syd Uni 4
18:30:00
P2
-
04/08/2020
ND 4
Northside 4
21:35:00
Olympic
-
Date
Home Team
Away Team
Time
Venue
Score
11/08/2020
Briars 4
Northside 4
21:30:00
Cintra
-
11/08/2020
Ryde Legends O55
Sutherland Legends
20:10:00
Olympic
-
11/08/2020
Macarthur 4
Ryde Legends OA
21:35:00
Olympic
-
11/08/2020
Syd Uni 4
ND 4
21:00:00
Lidcombe
-
Date
Home Team
Away Team
Time
Venue
Score
19/08/2020
Northside 4
Syd Uni 4
18:30:00
Olympic
-
19/08/2020
Ryde Legends OA
ND 4
20:00:00
Olympic
-
19/08/2020
Ryde Legends O55
Macarthur 4
21:30:00
Olympic
-
19/08/2020
Sutherland Legends
Briars 4
21:30:00
P2
-
Premier Division
| Team | Games | Win | Draw | Loss | G+ | G- | +/- | Points |
| --- | --- | --- | --- | --- | --- | --- | --- | --- |
| | 5 | 5 | 0 | 0 | 19 | 6 | 13 | 15 |
| | 6 | 3 | 1 | 2 | 12 | 10 | 2 | 10 |
| | 6 | 1 | 2 | 3 | 11 | 19 | -8 | 5 |
| | 5 | 0 | 1 | 4 | 7 | 14 | -7 | 1 |
Sydney Cup
| Team | Games | Win | Draw | Loss | G+ | G- | +/- | Points |
| --- | --- | --- | --- | --- | --- | --- | --- | --- |
| | 6 | 5 | 1 | 0 | 32 | 10 | 22 | 16 |
| | 6 | 4 | 1 | 1 | 19 | 9 | 10 | 13 |
| | 6 | 3 | 0 | 3 | 14 | 16 | -2 | 9 |
| | 5 | 2 | 1 | 2 | 11 | 6 | 5 | 7 |
| | 6 | 2 | 1 | 3 | 9 | 14 | -5 | 7 |
| | 5 | 2 | 0 | 3 | 9 | 16 | -7 | 6 |
| | 6 | 0 | 0 | 6 | 4 | 27 | -23 | 0 |
Masters Division
| Team | Games | Win | Draw | Loss | G+ | G- | +/- | Points |
| --- | --- | --- | --- | --- | --- | --- | --- | --- |
| | 5 | 3 | 2 | 0 | 19 | 5 | 14 | 11 |
| | 4 | 2 | 2 | 0 | 10 | 5 | 5 | 8 |
| | 4 | 2 | 1 | 1 | 6 | 9 | -3 | 7 |
| | 5 | 2 | 1 | 2 | 9 | 9 | 0 | 7 |
| | 6 | 1 | 2 | 3 | 11 | 12 | -1 | 5 |
| | 4 | 0 | 2 | 1 | 5 | 7 | -2 | 2 |
| | 4 | 0 | 0 | 3 | 0 | 10 | -10 | 0 |
Legends Division
| Team | Games | Win | Draw | Loss | G+ | G- | +/- | Points |
| --- | --- | --- | --- | --- | --- | --- | --- | --- |
| | 5 | 5 | 0 | 0 | 21 | 2 | 19 | 15 |
| | 6 | 3 | 0 | 3 | 12 | 12 | 0 | 9 |
| | 4 | 2 | 2 | 0 | 7 | 2 | 5 | 8 |
| | 4 | 2 | 1 | 1 | 7 | 5 | 2 | 7 |
| | 4 | 2 | 1 | 1 | 5 | 2 | 3 | 7 |
| | 4 | 1 | 2 | 1 | 4 | 9 | -5 | 5 |
| | 5 | 0 | 0 | 5 | 3 | 13 | -10 | 0 |
| | 4 | 0 | 0 | 4 | 1 | 15 | -14 | 0 |