Welcome to Sydney Masters Hockey
The Sydney Masters Hockey Association (SMHA) was established over 30 years ago to manage masters hockey within the greater Sydney area.
Managed by a board of directors elected by members each year, the competition now boasts 28 teams, spread across four divisions. Sydney also enters teams in all age groups at the state championships, and enjoys a generous representation in the NSW sides selected at those championships.
Players aged 40 and above are eligible to play in all Divisions, and over 34 for the Premier, and over 35 for the Sydney Cup* Leagues. All matches played at Sydney Olympic Park Hockey Centre.
*Sydney Cup 35-39's must NOT be playing in SHA Premier League divisions (1-3), or equivalent. Max playing per team will be capped to five (5) and subject to Board approval.
SMHA Matches are played in 4 x 17 minute quarters.
You can view the draw & results by division, by clicking on the blue Division titles above. The results and ladder will update automatically upon completion of each match.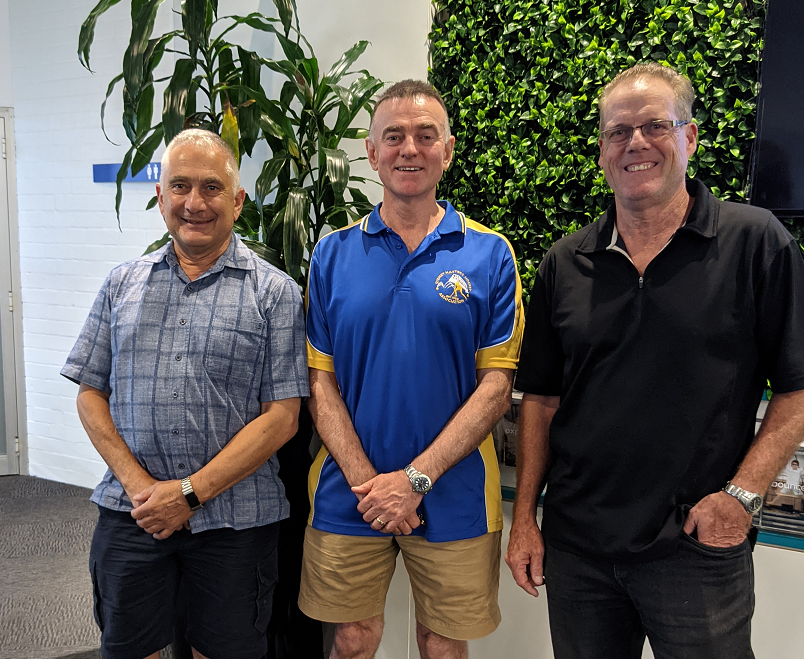 Life Members 2020
SMHA welcome Glenn Crowhurst (apology 2019), Steve Reilly and Kevin Rule to the Life Member family @ the 2020 AGM.
Mark Brookfield also inducted, was an apology on the night.
PRESIDENTS WELCOME FOR 2021
Welcome again to all our returning players, officials, sponsors and supporters, and also to those of you who are "new" and will be joining the 2021 season of Men's Masters Hockey in Sydney.
2020 was a challenging year, however we did manage to complete almost a full season.
On behalf of the Board, we wish all teams good luck and trust that everyone enjoys a successful 2021 Sydney Men's Masters Hockey season, both on and off the field.
Regards
Greg Kay
Adding Players and Rep Nominations to Site 2021
The 2020 season data has been rolled over [ 4th Jan 2021 ]. You may now access the system, nominate for 2021 SMHA rep teams or add new players to your team list etc.
Please note, we have decided to use the 2019 manual matchcards for the Pre-season competition to give coordinators ample time to prepare their main season team lists etc, prior to commencement of the main season 2021.
2021 Season Information
2021 Pre Season Draw is out! Click here to view. [ver 2, 20th Jan]
Round 1 will commence Monday 1st February, 2021.
The main season will kick off the week following final round of preseason, and the draw will be available in the coming weeks.
Please Note: The preseason competition will be run using the old manual matchcards.
2021 season [ Coming soon ]
As matches are completed, they'll automatically be removed from the above list. Players can view their next round via their personal dashboard after logging in.
| Date | Home Team | Away Team | Time | Venue | Score |
| --- | --- | --- | --- | --- | --- |
| Date | Home Team | Away Team | Time | Venue | Score |
| --- | --- | --- | --- | --- | --- |
| Date | Home Team | Away Team | Time | Venue | Score |
| --- | --- | --- | --- | --- | --- |
| Date | Home Team | Away Team | Time | Venue | Score |
| --- | --- | --- | --- | --- | --- |
Premier Division
| Team | Games | Win | Draw | Loss | G+ | G- | +/- | Points |
| --- | --- | --- | --- | --- | --- | --- | --- | --- |
Sydney Cup
| Team | Games | Win | Draw | Loss | G+ | G- | +/- | Points |
| --- | --- | --- | --- | --- | --- | --- | --- | --- |
Masters Division
| Team | Games | Win | Draw | Loss | G+ | G- | +/- | Points |
| --- | --- | --- | --- | --- | --- | --- | --- | --- |
Legends Division
| Team | Games | Win | Draw | Loss | G+ | G- | +/- | Points |
| --- | --- | --- | --- | --- | --- | --- | --- | --- |